Spring 2019
We've got a Golden Ticket for YOU! Join the delicious adventures of Charlie Bucket on her visit to Willy Wonka's mysterious chocolate factory as Stagelight Productions lights up the stage in this captivating adaptation of Roald Dahl's fantastical tale. Featuring the enchanting songs from the 1971 film starring Gene Wilder and new songs, *Roald Dahl's Willy Wonka* is a scrumdidilyumptious musical guaranteed to delight everyone's sweet tooth! [Adapted from MTI]
All tickets are for General Admission seating and are $12 each.
Tickets are available here.

Performances:
Friday, April 5, 7:00 p.m.
Saturday, April 6, 2:00 p.m. matinee* and 7:00 p.m.
Thursday, April 11, 7:00 p.m.
Friday, April 12, 7:00 p.m.
Saturday, April 13, 2:00 p.m. matinee and 7:00 p.m.
Slayton House Theatre, 10400 Cross Fox Lane, Columbia, Maryland
*Sign language interpretation available for the Saturday, 4/6, 2:00 p.m. matinee. Please email pamela@spectrumchc.com to arrange special seating if you are hearing impaired and would benefit from this provision.

Cast
Willy Wonka - Harrison Mayo
Charlie Bucket - Payten Blake
Mrs. Bucket - Annabelle Lee
Mr. Bucket - Joshua King
Grandpa Joe - Theodore Gwathmey
Grandma Josephine - Ava Fahs
Grandpa George - Sam Pelletier
Grandma Georgina - Abby Reno
Augusta Gloop - Zoe Robinson
Mrs. Gloop - Natalie Owen
Veruca Salt - Savannah Perry
Mr. Salt - Gabriel Czerny
Violet Beauregarde - Naomi Ray
Mrs. Beauregarde - Julianna Reid
Mike Teavee - Landen Custis
Mrs. Teavee - Aubrey Young
Phoebe Trout - Amelia Thomas
Candy Woman - Katherine Thomas

Children/Squirrels: Natalie Armstrong, Ella Brooks, Malana Brower, Olivia Chapman, Grace DeJarnette, Jacob Ericson, Quinn Fahs, Kayla Fields, Jaynie Hamm, Jennifer Neely, Mallory Owen, Jed Sparks, Effie Wood, Jonathan Wood

Townspeople/Cooks: Ethan Brower, Hope Covington, Noelle Jackson, Rachel Jackson, Fyvie Martin, Hannah Pelletier, Judi Peveto, Ryan Pulliam, Lucy Smith, Jill Tolley, Julia Tolley, Esther Wood

Oompa Loompas: Sarah Basom, Julia Chapman, Melody Chapman, Anastasia Ericson, Marika Langerman, Lexi McVey, Jaina Peveto, DJ Pulliam, Skai Pulliam, Olivia Swon, Nathaniel Thompson, Aubrie Wilson

Production Team:
Anne Dransfield - Director
Pamela Fahs - Director of Administration
Mary Ray - Director of Costumes and Props
Johnny Reno - Director of Set Design and Building
Emily Wood - Director of Stage Management

Choreographers: Jen Aversa and Stephanie Depew
Vocal Director: Jenni Dunn
Amazon Smiles
Will you be our Valentine? Shop at smile.amazon.com/ch/35-2334234 and AmazonSmile donates to Spectrum Christian Homeschool Community.
Facebook
Goals and Shows
STAGELIGHT PRODUCTIONS is a ministry of Spectrum Christian Homeschool Community
Our Mission Statement: Stagelight Productions, a ministry of Spectrum Christian Homeschool Community, is a 501c3, non-profit organization that seeks to provide opportunities for pre-teens and teens to express themselves artistically through participation in annual theatrical productions.
Our Goals:
Encourage artistic expression and offer an educational environment to our students.
Develop a spirit of ensemble among the cast, production team, and all others involved in our productions.
Develop and maintain good relationships with those with whom we work in our community.
Provide students with the opportunity to outreach in our community.
Provide quality entertainment that glorifies God through theatrical productions.
Entertain our audiences with enriching, family-oriented shows.
Our Shows:

Cinderella 2009
The Wizard of Oz 2010
The Sound of Music 2011
Hello, Dolly! Spring 2012
Our Miss Brooks Fall 2012
Oklahoma! Spring 2013
You Can't Take It With You Fall 2013
Guys and Dolls Spring 2014
You're a Good Man, Charlie Brown Fall 2014
Mary Poppins Spring 2015
Music Man Spring 2016
The Man Who Came to Dinner Fall 2016
The Little Mermaid Spring 2017
Our Town Fall 2017
My Fair Lady Spring 2018
Alice in Wonderland Fall 2018
Willy Wonka Spring 2019
Thank you for traveling to Wonderland with us in Stagelight's Fall 2018 show, ALICE IN WONDERLAND!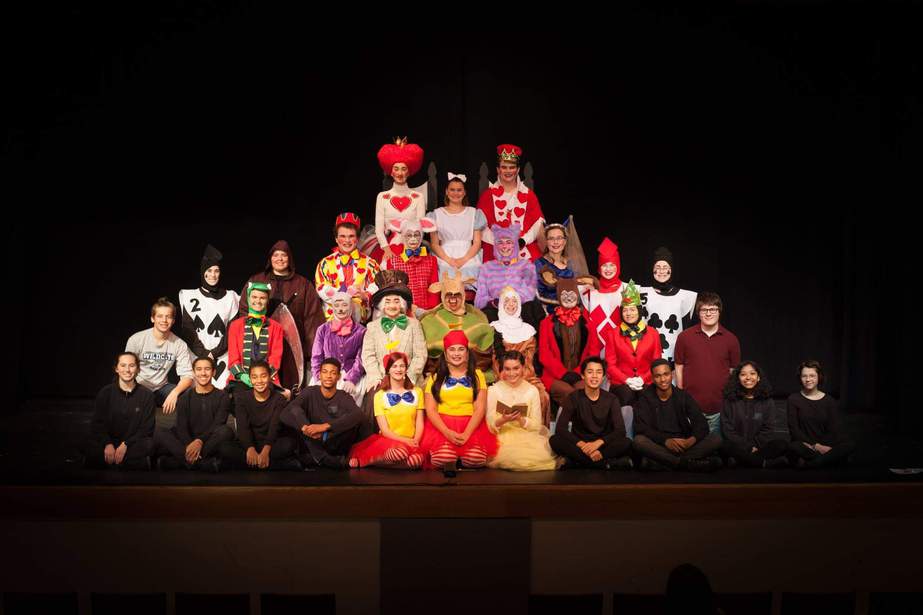 It was simply loverly being with you for Stagelight's Spring 2018 MY FAIR LADY!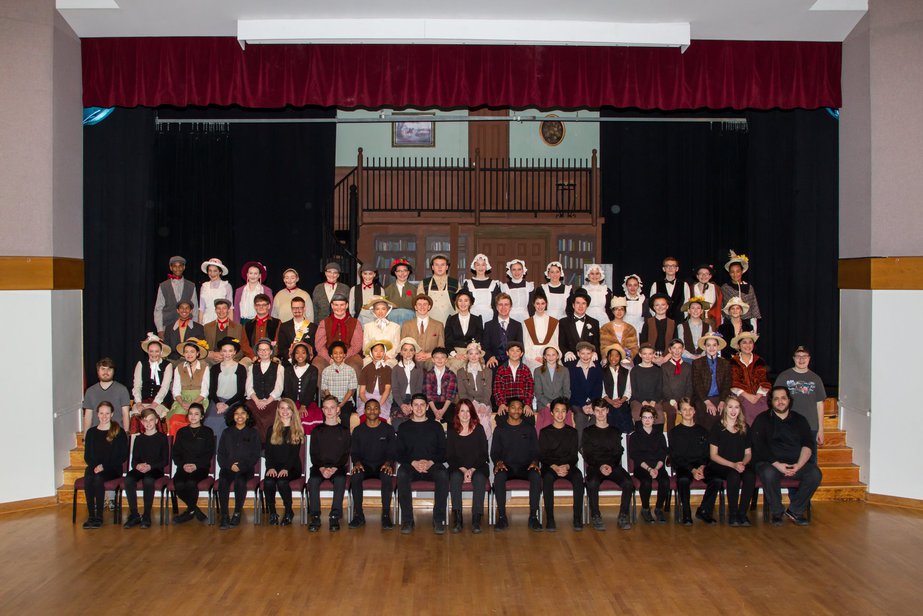 Thank you for visiting Groves Corners with us in Stagelight Productions' Fall 2017 show, OUR TOWN.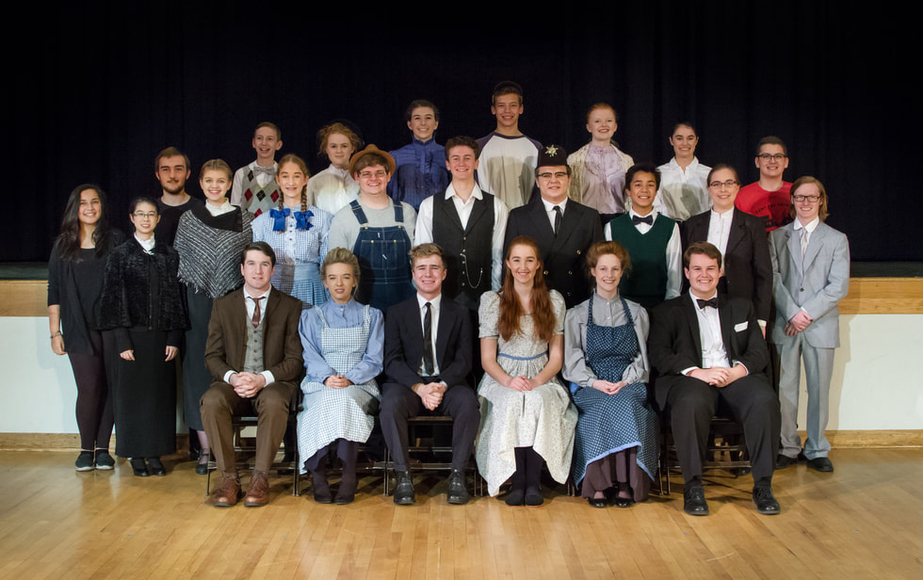 Thank you for making Stagelight Productions' Spring 2017 THE LITTLE MERMAID part of your world!