Stagelight Productions
Thank you for visiting Stagelight Productions!
While we are all social distancing in effort to help contain the spread of COVID-19, we continue prepartion for our production of The Wizard of Oz, which was supposed to run the middle of April.
We will publish updates as we are able.
STAGELIGHT PRODUCTIONS, a ministry of Spectrum Christian Homeschool Community, is a 501c3, non-profit organization that seeks to provide opportunities for pre-teens and teens to express themselves artistically through participation in annual theatrical productions.
Goals and Shows
Our Goals:
Encourage artistic expression and offer an educational environment to our students.
Develop a spirit of ensemble among the cast, production team, and all others involved in our productions.
Develop and maintain good relationships with those with whom we work in our community.
Provide students with the opportunity to outreach in our community.
Provide quality entertainment that glorifies God through theatrical productions.
Entertain our audiences with enriching, family-oriented shows.
Our Shows:

Cinderella 2009
The Wizard of Oz 2010
The Sound of Music 2011
Hello, Dolly! Spring 2012
Our Miss Brooks Fall 2012
Oklahoma! Spring 2013
You Can't Take It With You Fall 2013
Guys and Dolls Spring 2014
You're a Good Man, Charlie Brown Fall 2014
Mary Poppins Spring 2015
Music Man Spring 2016
The Man Who Came to Dinner Fall 2016
The Little Mermaid Spring 2017
Our Town Fall 2017
My Fair Lady Spring 2018
Alice in Wonderland Fall 2018
Willy Wonka Spring 2019
Anne of Green Gables Fall 2019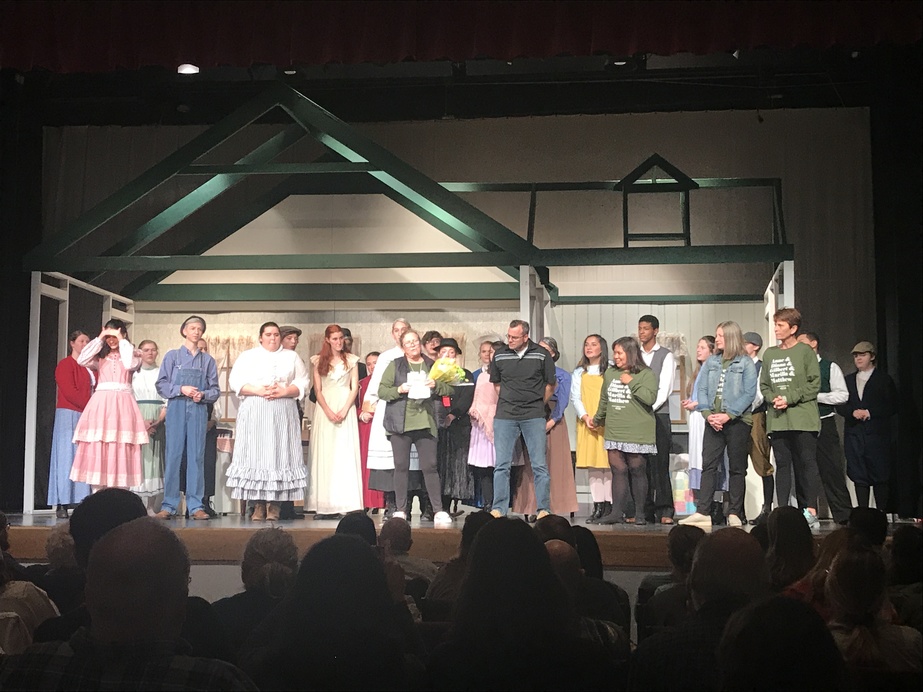 Photos from Our Shows
Anne of Green Gables, Fall 2019
Roald Dahl's Willy Wonka, Spring 2019
Alice in Wonderland, Fall 2018
My Fair Lady, Spring 2018
The Man Who Came to Dinner, Fall 2016
Our Town, Fall 2017
You're a Good Man Charlie Brown, Fall 2014
"Supercal," Mary Poppins, Spring 2015
"It Takes a Woman," Hello, Dolly! Spring 2012
"Kiss the Girl," The Little Mermaid, Spring 2017
Our Miss Brooks, Fall 2012
From The Sound of Music, Spring 2011
The Little Mermaid, Spring 2017