Stagelight Productions
Auditions for Stagelight Productions' Spring 2020 Musical
Stagelight is pleased to announce its audition dates for our 2020 spring musical. We are posting these dates so that interested students can mark their calendars now, though we do not yet know what our spring musical is. Sadly, we applied for the rights and license to perform Beauty and the Beast this spring, but we were denied because the show is being performed in too many other venues near ours within the next year. We have applied for rights to another incredible show, and as soon as we receive word that we are approved, We will make an announcement and share more information.
In the meantime, please save the date of Saturday, January 4, for auditions. More information is below, and even more information will be available in the coming days. We will do our best to keep you apprised of happenings and sign-ups as they become available.
Stagelight Productions' Spring 2020 Musical
Information is subject to change.
Audition Information
Individual auditions will be held on Saturday, January 4. Callbacks will be held on Tuesday, January 7. Stay tuned for more information.
Homeschooled students in grades 3-12 are welcome to audition.
Students in grades 3-5 will participate in a group audition from 10:00 a.m. - 10:45 a.m.
Students in grades 6-12 will sign up for individual 10-minute audition slots from 11:00 a.m. - 5:00 p.m.
Sign-ups will be available soon.Actor information forms will be required at auditions. Please stay tuned for another email that will include audition requirements and relevant paperwork.
Rehearsal Information
Rehearsals are tentatively scheduled for Tuesdays and Thursdays from 4:00 p.m. - 6:00 p.m., and Saturdays from 10:00 a.m. - 1:00 p.m., beginning Saturday, January 11.
Actors may not miss more than 3 rehearsals. Please consider this carefully when you choose to audition.
Tech week is April 13-16, and all-day rehearsals will be held every day. Tech week rehearsals are absolutely mandatory! Please do not audition if you are unable to make every tech week rehearsal.
Performances
Friday, April 17, 7:00 p.m.
Saturday, April 18, 2:00 p.m. and 7:00 p.m.
Thursday, April 23, 7:00 p.m.
Friday, April 12, 24:00 p.m.
Saturday, April 25, matinee to be announced and 7:00 p.m.
All performances will be at the Slayton House Theatre in Columbia, Maryland.
Again, more information will be forthcoming. Stay tuned!
Stagelight Productions
Stagelight Productions is pleased to announce our 2019 Fall Play --
Anne of Green Gables
-- a stage adaptation of Lucy Maud Montgomery's classic book.
Stagelight Productions is excited to travel audiences down the White Way of Delight and past the Lake of Shining Waters in Avonlea, where we will enjoy the adventures of the always imaginative, utterly lovable, and indubitably delightful Anne Shirley in our production of ANNE OF GREEN GABLES, a stage adaptation of Lucy Maud Montgomery's classic, adapted for the stage by Sylvia Ashby.

Performances:
Thursday, November 14, 7:00 p.m.
Friday, November 15, 7:00 p.m.
Saturday, November 16, 2:00 p.m. matinee and 7:00 p.m.
Slayton House Theatre, 10400 Cross Fox Lane, Columbia, Maryland

Tickets: $12 adults; $10 children 12 and under
Matinee tickets: $10 for all seats

Purchase tickets by clicking HERE.

ANNE OF GREEN GABLES
Directed by Anne Dransfield

Anne Shirley - Amelia Thomas
Marilla Cuthbert - Naomi Ray
Matthew Cuthbert - Gabriel Czerny
Gilbert Blythe - Joel Wood II
Diana Barry - Ava Fahs
Rachel Lynde - Aubrey Young
Ruby Gillis - Katherine Thomas
Miss Stacy - Anastasia Ericson
Josie Pye - Sarah Basom
Mrs. Barry - Natalie Owen
Mrs. Spencer - Olivia Swon
Mrs. Blewitt - Juliana Reid
Moody McPherson - Chris Stewart
Charlie Sloane - Noah Johnson
Mr. Phillips / Station Master - Ethan Brower
Mr. Spencer - Josiah Skiles

Townspeople of Avonlea
Molly Gallagher
Katie Handel
Hannah Johnson
Jillian Keen
Meredith Keen
Josiah Skiles
Emily Warshaw

Production Team
Director: Anne Dransfield
Team: Pamela Fahs, Mary Ray, Johnny Reno, and Emily Wood
Amazon Smiles
Shopping for all your school needs online? Shop at smile.amazon.com/ch/35-2334234 and AmazonSmile donates to Stagelight Productions!
Facebook
Goals and Shows
STAGELIGHT PRODUCTIONS is a ministry of Spectrum Christian Homeschool Community
Our Mission Statement: Stagelight Productions, a ministry of Spectrum Christian Homeschool Community, is a 501c3, non-profit organization that seeks to provide opportunities for pre-teens and teens to express themselves artistically through participation in annual theatrical productions.
Our Goals:
Encourage artistic expression and offer an educational environment to our students.
Develop a spirit of ensemble among the cast, production team, and all others involved in our productions.
Develop and maintain good relationships with those with whom we work in our community.
Provide students with the opportunity to outreach in our community.
Provide quality entertainment that glorifies God through theatrical productions.
Entertain our audiences with enriching, family-oriented shows.
Our Shows:

Cinderella 2009
The Wizard of Oz 2010
The Sound of Music 2011
Hello, Dolly! Spring 2012
Our Miss Brooks Fall 2012
Oklahoma! Spring 2013
You Can't Take It With You Fall 2013
Guys and Dolls Spring 2014
You're a Good Man, Charlie Brown Fall 2014
Mary Poppins Spring 2015
Music Man Spring 2016
The Man Who Came to Dinner Fall 2016
The Little Mermaid Spring 2017
Our Town Fall 2017
My Fair Lady Spring 2018
Alice in Wonderland Fall 2018
Willy Wonka Spring 2019
Thank you for joining us in a world of pure imagination in Stagelight's WILLY WONKA, spring 2019!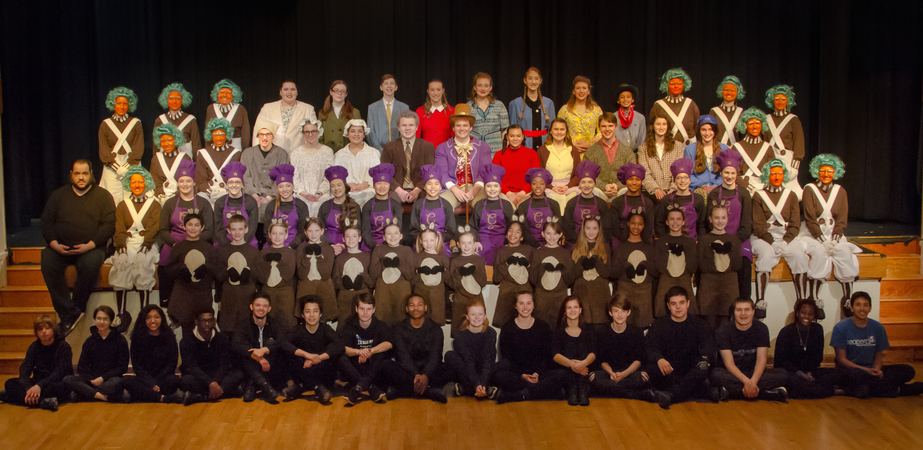 Thank you for traveling to Wonderland with us in Stagelight's Fall 2018 show, ALICE IN WONDERLAND!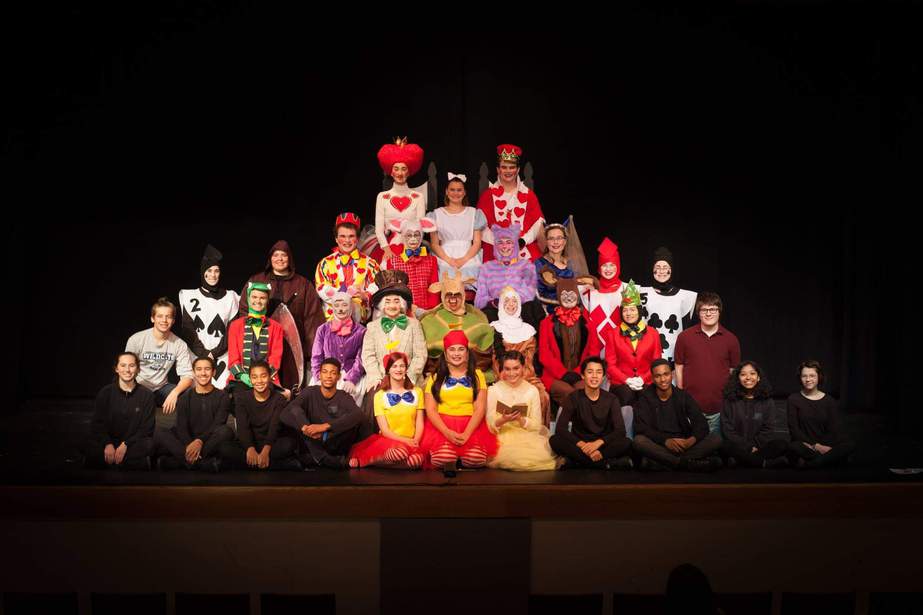 It was simply loverly being with you for Stagelight's Spring 2018 MY FAIR LADY!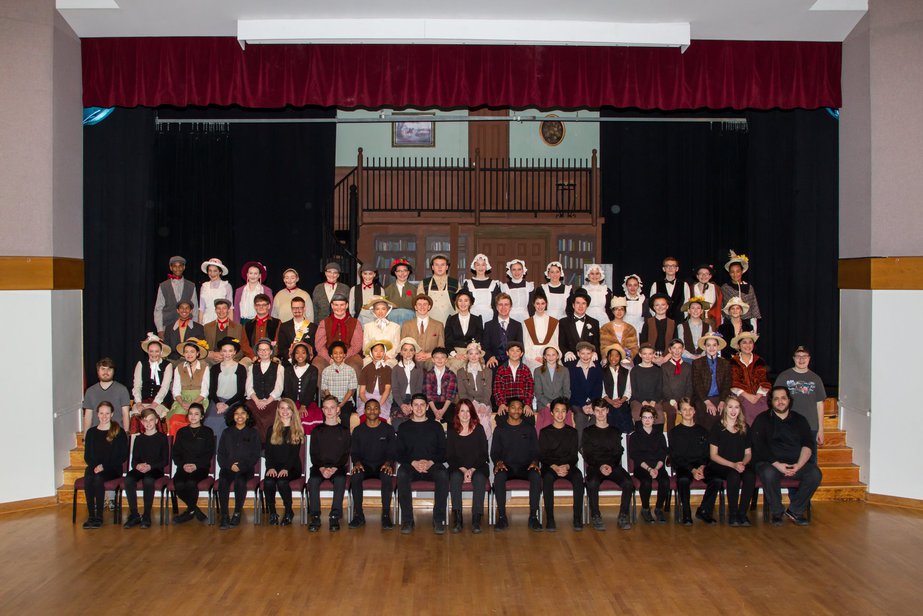 Thank you for visiting Grovers Corners with us in Stagelight Productions' Fall 2017 show, OUR TOWN.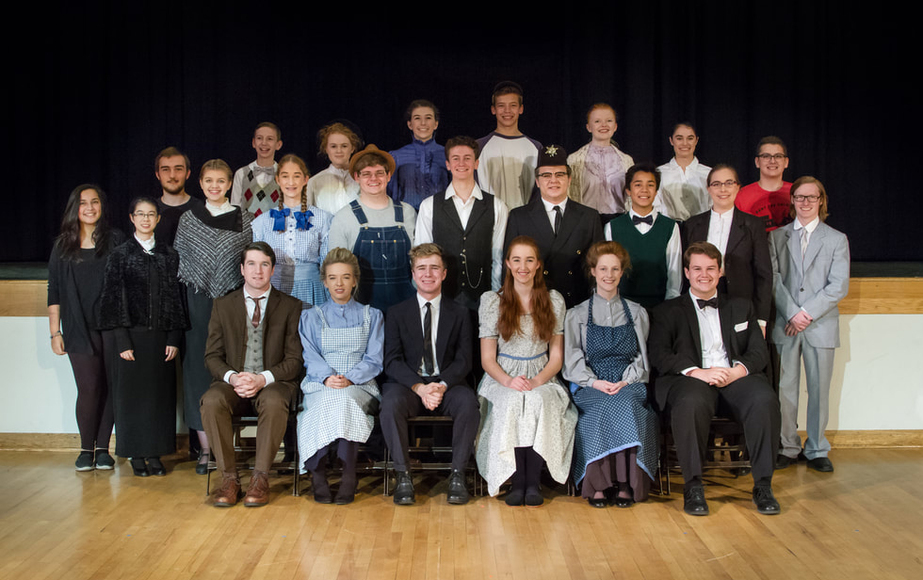 Thank you for making Stagelight Productions' Spring 2017 THE LITTLE MERMAID part of your world!