Stagelight Productions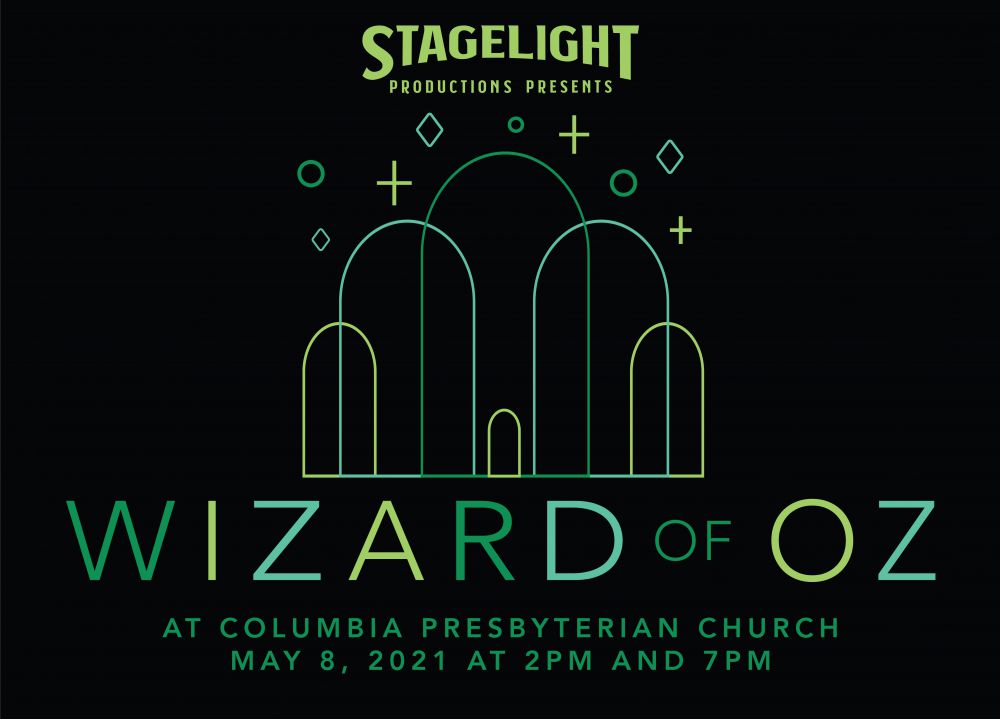 This Spring 2021, Stagelight Productions happily presents
The Wizard of Oz
May 8, 2021
Columbia Presbyterian Church
10001 Route 108, Columbia, Maryland
2:00 p.m. and 7:00 p.m.
Tickets: $12 for General Admission
THE WIZARD OF OZ
by L. Frank Baum
with Music and Lyrics by Harold Arlen and E. Y. Yarburg
Background Music by Herbert Stothart
Dance and Vocal Arrangements by Peter Howard
Orchestration by Larry Wilcox
Adapted by John Kane for the Royal Shakespeare Company
Based upon the Classic Motion Picture owned by
Turner Entertainment Co. and distributed in all media by Warner Brothers.
This beloved tale, in which a Kansas farm girl travels over the rainbow to discover the magical powers of home, has been entertaining audiences for generations.
Includes the songs "Over the Rainbow," "Munchkinland (Ding Dong! The Witch is Dead)," "If I Only Had a Brain/A Heart/The Nerve," "We're Off to See the Wizard (Follow the Yellow Brick Road)," "The Jitterbug," "The Merry Old Land of Oz," "Poppies (Optimistic Voices)," and "If I Were King of the Forest."
Cast
Dorothy - Naomi Ray
Wicked Witch of the West - Katherine Thomas
Scarecrow - Joel Wood
Tinman - Zoë Robinson
Cowardly Lion - Juliana Reid
Glinda - Ava Fahs
Aunt Em - Sarah Basom
Professor Marvel/Wizard of Oz - Julia Chapman
Guard - Gabriel Czerny
Uncle Henry - Chris Stewart
Munchkins / Ozians Jitterbugs / Ozians
Malana Brower Olivia Chapman
Grace DeJarnette Amisa Humphrey
Jaynie Hamm Jonathan Humphrey
Emberlyn Kinch Noelle Jackson
Effie Wood
Winkies / Ozians Flying Monkeys / Ozians
Molly Gallagher Quinn Fahs
Katie Handel A.J. Jones (Nikko)
Fyvie Martin Jonathan Wood
Hannah Pelletier
Esther Wood
Stage Crew and Tech Team
Gavin Kinch, Olivia Murray, Hannah Phillips, Josh Phillips, Tim Ray, Chrystopher Robinson
Direction Team
Director - Anne Dransfield, Assistant Director - Emily Wood, Choreographer - Stephanie Karl
Production Team
Anne Dransfield, Pamela Fahs, Rhonda Murray, Mary Ray, and Emily Wood
THE WIZARD OF OZ is presented by arrangement with CONCORD THEATRICALS www.concordtheatricals.com
Stagelight Productions
Thank you for visiting Stagelight Productions!
Our 2020-2021 theatre season has, of course, been mightily affected by COVID-19;
nonetheless, we are excited about our offerings for this theatre year!
STAGELIGHT PRODUCTIONS, a ministry of Spectrum Christian Homeschool Community, is a 501c3, non-profit organization that seeks to provide opportunities for homeschooled middle- and high-schoolers (6th-12th grades) to express themselves artistically through participation in annual theatrical productions.
Stagelight Fall Revue
Thank you for joining us for our
Stagelight Fall Revue
featuring

Julia Chapman, Gabriel Czerny, Ava Fahs,

Molly Gallagher, Noelle Jackson, Christal Newman,

Zoë Robinson, Katherine Thomas, Esther Wood,

and Joel Wood

Saturday, November 14, 2020
Columbia Presbyterian Church

It was our joy to entertain you!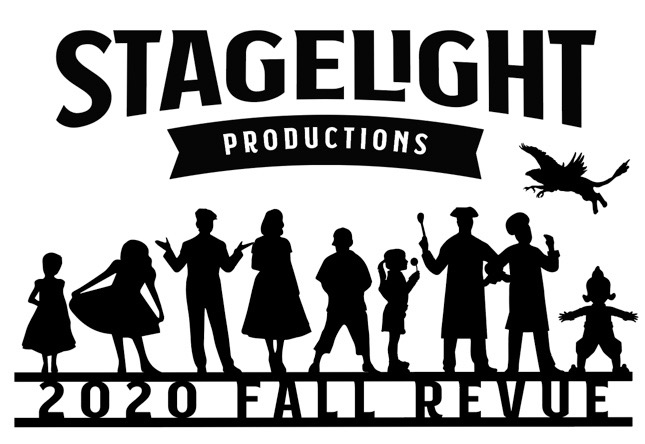 Photos from Our Shows
Anne of Green Gables, Fall 2019
Roald Dahl's Willy Wonka, Spring 2019
Alice in Wonderland, Fall 2018
My Fair Lady, Spring 2018
The Man Who Came to Dinner, Fall 2016
Our Town, Fall 2017
You're a Good Man Charlie Brown, Fall 2014
"Supercal," Mary Poppins, Spring 2015
"It Takes a Woman," Hello, Dolly! Spring 2012
"Kiss the Girl," The Little Mermaid, Spring 2017
Our Miss Brooks, Fall 2012
From The Sound of Music, Spring 2011
The Little Mermaid, Spring 2017