Stagelight Productions Fall 2021
This December, Stagelight Productions will take audiences into the lively, imaginative, and miraculous childhood world of Roald Dahl's musical
Matilda
December 10, 14, 16, and 17, 2021
7:00 p.m.
Slayton House Theatre in Columbia, Maryland
Click here to purchase tickets.
CAST OF MATILDA
Matilda Wormwood - Ava Fahs
Miss Honey - Sarah Basom
Miss Agatha Trunchbull - Molly Gallagher
Mr. Wormwood - Timothy Lee
Mrs. Wormwood - Noelle Jackson
Michael Wormwood / Nigel - Quinn Fahs
Mrs. Phelps - Hannah Pelletier
Bruce - Jonathan Wood
Lavender - Emberlyn Kinch
The Escapologist / Sergei - Gideon Zachman
The Acrobat - Effie Wood
Doctor / Alice - Emily Myers
Rudolpho - Jonathan Humphrey
Amanda - Chloe Kinch
Eric - Matthew Curtis
Hortensia - Effie Wood
Tina - Joanna Jones
Children's Entertainer - Fyvie Martin
Big Kids / Parents
Katie Handel
Violet Hansen
Bella Holt
Amisa Humphrey
Jonathan Humphrey
Noelle Jackson
Rachel Jackson
Timothy Lee
Fyvie Martin
Delaney Parke
Eliana Parke
Hannah Pelletier
Wendy Wertz
Esther Wood
Gideon Zachman
Little Kids / Matilda's Classmates
Matthew Curtis
Grace DeJarnette
Quinn Fahs
Joanna Jones
Chloe Kinch
Emberlyn Kinch
Kennedy Mayo
Emily Myers
Isabel Scheerer
Effie Wood
Jonathan Wood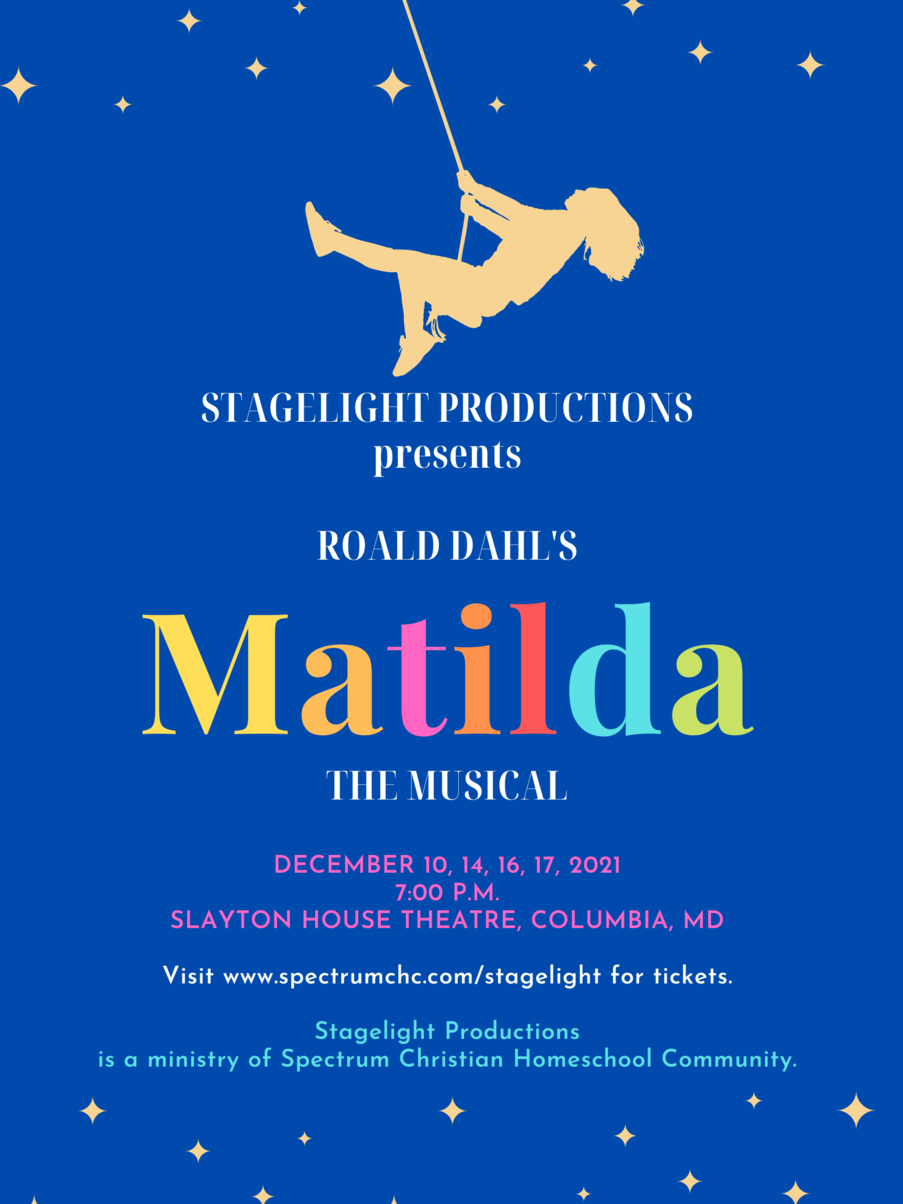 Stagelight Productions
Thank you for visiting Stagelight Productions!
Our 2020-2021 theatre season has, of course, been mightily affected by COVID-19;
nonetheless, we are excited about our offerings for this theatre year!
STAGELIGHT PRODUCTIONS, a ministry of Spectrum Christian Homeschool Community, is a 501c3, non-profit organization that seeks to provide opportunities for homeschooled middle- and high-schoolers (6th-12th grades) to express themselves artistically through participation in annual theatrical productions.
Photos from Our Shows
Anne of Green Gables, Fall 2019
Roald Dahl's Willy Wonka, Spring 2019
Alice in Wonderland, Fall 2018
My Fair Lady, Spring 2018
The Man Who Came to Dinner, Fall 2016
Our Town, Fall 2017
You're a Good Man Charlie Brown, Fall 2014
"Supercal," Mary Poppins, Spring 2015
"It Takes a Woman," Hello, Dolly! Spring 2012
"Kiss the Girl," The Little Mermaid, Spring 2017
Our Miss Brooks, Fall 2012
From The Sound of Music, Spring 2011
The Little Mermaid, Spring 2017