Stagelight Productions
Stagelight Productions happily announces its Spring 2024 Production.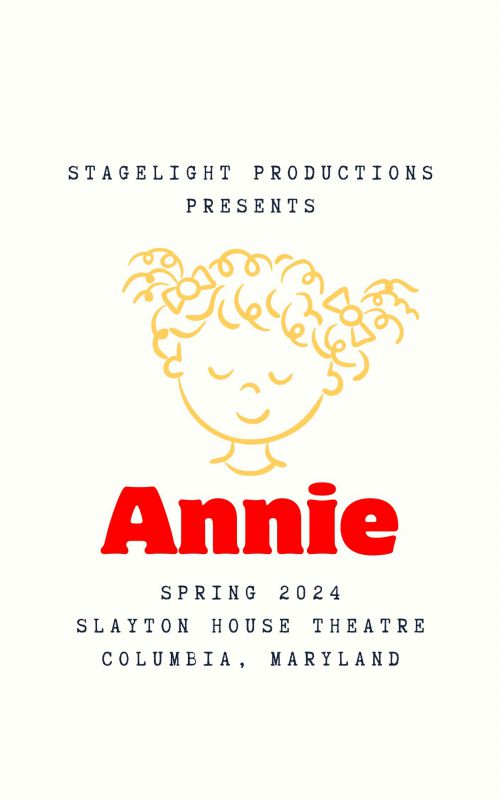 Annie
Book by Thomas Meehan Music by Charles Strouse Lyrics by Martin Charnin
Original Broadway Production Directed by Martin Charnin
Based on "Little Orphan Annie"
By Permission of Tribute Content Agency, LLC
ANNIE
is presented through special arrangement with Music Theatre International (MTI).
All authorized performance materials are also supplied by MTI.
www.mtishows.com
This production is licensed by Music Theatre International.
Directed by Pamela Fahs
Please stay tuned for information regarding auditions,
which will likely be held around Thanksgiving, 2023.
---
STAGELIGHT PRODUCTIONS, a ministry of Spectrum Christian Homeschool Community, is a 501c3, non-profit organization that seeks to provide opportunities for homeschooled middle- and high-schoolers (6th-12th grades) to express themselves artistically through participation in annual theatrical productions.
Photos from Our Shows
Anne of Green Gables, Fall 2019
Roald Dahl's Willy Wonka, Spring 2019
Alice in Wonderland, Fall 2018
My Fair Lady, Spring 2018
The Man Who Came to Dinner, Fall 2016
Our Town, Fall 2017
You're a Good Man Charlie Brown, Fall 2014
"Supercalifragilisticexpialidocous" - Mary Poppins
"It Takes a Woman" - Hello, Dolly!
"Kiss the Girl" - The Little Mermaid
Our Miss Brooks, Fall 2012
From The Sound of Music, Spring 2011
The Little Mermaid, Spring 2017
From Matilda, Fall 2021
From Matilda, Fall 2021
From Matilda, Fall 2021M
Matilda, Fall 2021